We've been having a very busy week. We've operated on 32 patients, replacing 44 knee joints and we had 4 patients that only needed injections. That's 36 patients in all – operated on in 3+ days – we are quite proud of those numbers!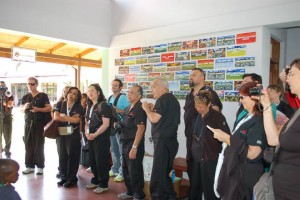 Led by our surgeons, the team presented an educational symposium for doctors, nurses and students from around Arusha. Sharing of knowledge is very important to the team. One of our three pillars is Educate.
The physical therapy team and the nursing staff were very busy taking care of the patients. The amazing staff from the ALMC has worked hard along-side our team in partnership to provide the best possible care to everyone.
During a break in the action the team visited The Plaster House. The Plaster House is a home in Arusha for children from around Tanzania to recover in after they have had corrective orthopaedic surgery, plastic surgery or neurosurgery for a disability. We brought lots of goodies for the kids, coloring books, crayons, markers, picture books, and lots more. It was a morning filled with joy.
While we were at the Plaster House our good friend Tiffany, of Soles 4 Souls fitted each child and provided them with a new pair of shoes. Tiffany also visited the Glorious Orphanage giving those children new shoes as well. It was a happy, happy day!
We have lots more planned for our trip! Can't wait to share it with you!