This morning we visited with our patients for last goodbyes. We really will miss their smiles and hugs. Boy were they generous with them. Smiles and hugs all around.
It is always so touching and bittersweet to leave our patients. We know that they are recovering well and we know that they are in excellent hands with the hospital staff, but it is always hard to say goodbye.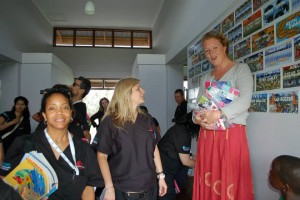 The team at Arusha Lutheran Medical Center could not have been more welcoming. We felt like part of the family from the moment we arrived. We thank them for the support they provided to us, their patience with us and we hope that we will see them again someday very soon. We especially thank our host, Dr. Jacobson, for all of his support!
This afternoon we traveled a little over an hour outside of Arusha and visited STEMM Village. We spent the afternoon at STEMM distributing shoes to the school children and village children with Soles 4 Souls. In addition we distributed uniforms from Clothes 4 Souls. Thanks to Dr. Meyer for inviting us out to STEMM for the day.
Our partnership with Soles 4 Souls allowed us to help distribute more than 630 shoes while we are in Tanzania, including to children at The Plaster House, Glorious Orphanage, and the STEMM event today.
As part of our community outreach programs we brought the children sporting equipment. Movement and exercise are an important part of being healthy and by sharing playground equipment with these children we can encourage sports play. Another partner who we work with, Jerseys from Jersey, provided soccer jerseys for many children including a complete set of team jerseys for the Tanzania One school.
A brilliant day!