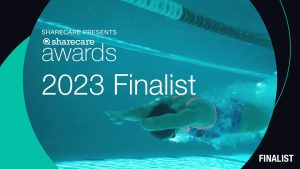 Women Orthopaedic Global Outreach (WOGO) competes for Sharing Care Award, open for public voting through June 16, 2023        
ROANOKE, VA – June 6, 2023 – Women Orthopaedic Global Outreach (WOGO) today announced that two videos "Maria Luisa's Story"/WOGO and "WOGO Giving Tuesday Promo"/WOGO were named a finalist in the 2023 Sharecare Awards, which recognize best-in-class productions and programs that promote well-being and embody the spirit of "sharing care."
WOGO is one of 52 finalists in the fifth annual Sharecare Awards, now competing to win the special Sharing Care Award, conferred upon the entry which receives the most votes from the general public. Starting today, anyone can go to sharecareawards.org/voting to vote for their favorite finalist in each category; only one vote may be cast per person, per category each day of the voting period, ending June 16, 2023.
WOGO's finalist videos were filmed during their 2022 medical mission to Antigua, Guatemala where the team completed forty (40) joint replacement surgeries for patients in need. "Maria Luisa's Story" is the story of one of those patients and her experience with WOGO. "WOGO Giving Tuesday Promo" was created about the surgeons and the team and why they do the work that they do in developing countries.
"Each finalist was mindfully selected from hundreds of entries submitted across the 13 awards categories," said Donna Hill Howes, chief nursing officer of Sharecare. "Selected by our competition's esteemed Academy of Judges, comprised of renowned experts in health and media, and their juries, WOGO's entries exemplify the inspiring commitment to 'sharing care' that the Sharecare Awards seeks to elevate and honor."
"We are so excited about being Sharecare Awards Finalists," said Dr Robyn Hakanson, President of Women Orthopaedic Global Outreach and WOGO Surgeon. "Our team's and our patients' stories are powerful. We are especially proud of the team at Emerging Light Media, Steve Sepulveda and Alex Villaseñor, who are so skilled at telling the WOGO stories and inspiring people to support our organization."
Beginning in September, category finalists will be showcased and winners revealed across Sharecare's social media profiles on Facebook, Instagram, LinkedIn, Twitter, and YouTube. Additionally, for the first time since the inaugural Sharecare Awards, the fifth annual competition will culminate with an in-person celebration on Monday, Oct. 9, when select winners, including recipients of the Sharing Care Award, Outstanding Foundation of the Year, and Person of the Year will be revealed live on stage at HLTH 2023 in Las Vegas.
About WOGO
Women Orthopaedic Global Outreach is incorporated as a team of Operation Walk (www.operationwalk.org), a 20 plus-year non-profit volunteer medical service organization that provides free surgical treatment in developing countries (and occasionally the United States) for patients that have no access to life-improving care for arthritis or other debilitating bone and joint conditions. The team has joined their global campaign because, although joint replacement surgeries have been performed on thousands of patients, millions more are needed. To learn more visit www.wogo.org.
About Sharecare
Sharecare is the digital health company that helps people manage all their health in one place. The Sharecare platform provides each person – no matter where they are in their health journey – with a comprehensive and personalized health profile where they can dynamically and easily connect to the information, evidence-based programs and health professionals they need to live their healthiest, happiest and most productive lives. In addition to providing individual consumers with direct access to award-winning and innovative frictionless technologies, scientifically validated clinical protocols and best-in-class coaching tools, Sharecare also helps providers, employers and health plans effectively scale outcomes-based health and wellness solutions across their entire populations. To learn more, visit www.sharecare.com.