The Importance of the Autoclave
Our third day of surgery completed 10 additional joint replacements.  This brings the number of new knees to 38.
Our surgical teams were slowed down today because the Autoclave failed during one of the cleaning processes between surgeries.  Two of our scheduled surgeries had to be pushed out to day 4.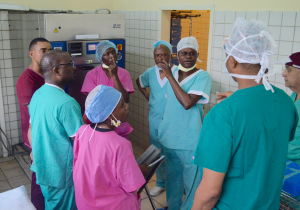 The Autoclave is a large machine that completes the final steps in the sterilization process of all of the instruments and tools that our surgical teams use in every knee replacement.  There are a very large number of items that need to be sterilized and ready to go for each surgery.  So our central supply team cleans everything, then runs them through the Autoclave. The tape changes color in the Autoclave and you know that sterilization is complete.
When the tape didn't change color, we had to re-run the instruments through the Autoclave.  This was a set-back of time as the process takes about 2 hours including drying time if the Autoclave worked on the re-run.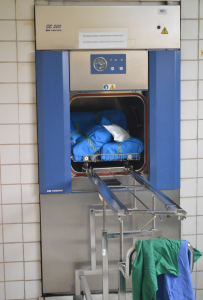 The second run did work and surgeries continued but because of the delay some patients were pushed.  Let's hope the Autoclave keeps running smoothly and all things run smoothly from here on out.
The team is firing on all cylinders and we are so proud that we have helped so many people with new knees.  Patients from days 1 and 2 of surgery are up and around, working on their PT and doing their exercises.  Lots of smiling faces greet us on the floor.
The pediatric unit is just across the way from our orthopaedic floor, and we've had the pleasure of interacting with the 4 little children there being treated.  We surprised them with WOGO beach balls and Tiffany brought around some new shoes from Soles4Souls.  Those little kiddos had a great time playing with their new balls while sporting their new shoes.
The team is very tired but powering through.  Tomorrow is our last day of surgery.