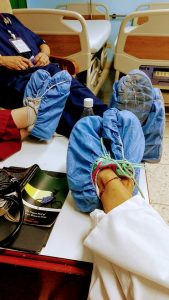 Watching a team of more than 70 people come together and work as a well-oiled machine is a very satisfying thing. Adding in the large team from CIMEQ hospital who worked alongside us here in Havana, it's incredible what was achieved. With so many personalities and work styles you could imagine things could get pretty chaotic, but it didn't. It was a wonderful sight to see.
This week our team replaced 53 knees. Thirty-eight patients can walk, as a matter of fact, they are now dancing! We also provided them with new athletic shoes so that their recovery is even easier.
We have so many wonderful stories to tell you, but for now we are off to the hospital to pack up for our return trip home. Then we will have time to put our feet up.