The countdown is on for the WOGO team's participation in Operation Walk USA. We are so thrilled to have the opportunity to give back here at home.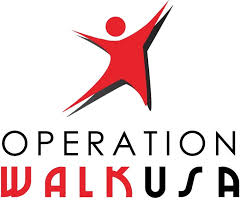 The most common cause of disability in the US is Arthritic disease, affecting more than 21% of the adult population. Even though more than 1 million hip and knee replacements are performed in the United States each year, so many of the uninsured or underinsured men and women must continue to live with severe Arthritic pain and immobility because they have no access to joint replacement surgery. Orthopaedic procedures can eliminate this pain and restore patients to active lives.
Operation Walk USA is an independent medical humanitarian organization that provides free hip or knee replacement surgeries to patients in the US. Operation Walk USA benefits US citizens and permanent residents who do not qualify for government assistance programs and cannot afford surgery on their own. Operation Walk USA is committed to helping those in need by restoring their mobility, self-dignity and productivity, thus helping them return to work and their social activities. Currently, Operation Walk USA takes place once a year, in December. *
We are so proud to be participating in OpWalk USA this December. Special shout out to our participating hospitals: Medical Center of Trinity, Trinity, FL; St. Lukes Baptist Hospital, San Antonio, TX; and Holy Cross Hospital, Silver Spring, MD. These amazing locations join hospitals across the nation participating in the event. Hospitals, surgeons and staff are donating their time and support to the program providing free surgery to qualified patients.
Want to learn more about joint replacement, and how to better take care of your joints? The American Academy of Orthopaedic Surgeons (AAOS) hosts an informative and interactive patient education site at www.orthoinfo.org or visit "Save Your Knees" at www.saveyourknees.org
You can join WOGO in supporting this program and our US patients by making a donation today!