Press Release Thu, June 6, 2013, for immediate Release
Mt. Airy, NC – June 6, 2013 – In 2011 students at the Millennium Charter Academy (MCA) in Mt. Airy, North Carolina made new friends at the Escuela Pedro Bethancourt in Antigua, Guatemala using computer technology including Skype. In 2013 those friendships continue.
"The students at MDC absolutely love the Skyping sessions with Bethancourt School. They write letters in the early fall as part of the curriculum before the Skype sessions. The sessions bring the letters to life for the students. They ask after the next Skype session continually throughout the school year." stated Ann Moore, Middle School English Teacher, at Millennium Charter Academy. "Our students have held several small fundraising projects throughout the year in support of the program".
This year students at MCA have raised funds for the Bethancourtschool to purchase chairs for their computer lab. The lab was constructed in 2011 during the Women Orthopaedist Global Organization (WOGO) medical mission in Antigua. WOGO team members procured donations of laptops for a classroom, webcams, set-up the classroom and connected the school to the internet. In addition, WOGO surgeons, out of their own pockets, paid for the school's technology teacher's salary for the first year. MCA students were able to Skype and make friends with Bethancourt students right away!
Women Orthopaedist Global Organization, or WOGO, connected these two schools as part of the WOGO team's medical mission for joint replacement surgeries in Antigua, Guatemala. WOGO is an Operation Walk team, and a unique one, as it is the only team lead by female surgeons. The WOGO mission is much broader than providing joint replacement surgeries to those in need. The team believes they have an opportunity to empower and inspire a generation of young girls through education and mentoring.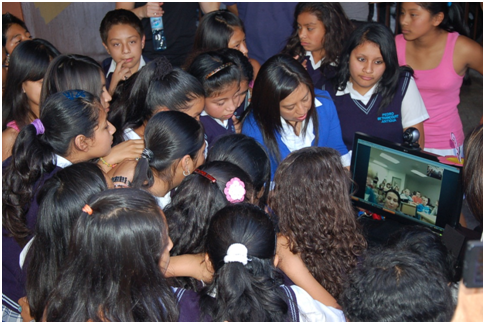 The international connection has been enjoyed by students at both schoolsDr. Robyn Hakanson, a WOGO surgeon and resident of Mt. Airy, noted that WOGO doctors feel they have an obligation to give back to the communities the team visits in more ways than just joint replacement surgeries. The societies the team travels to do not have a lot of professional female role models for young girls to look up to. "It's an obligation to give back. We feel a special calling to the young women in these communities. ", she said, "Reaching out to girls schools, it's the signature that makes our organization a little different."
The WOGO team is thrilled that the relationship between MCA and Bethancourt schools is continuing. "The world is becoming a much smaller place because of technology.", said Susan Morgan, executive director of WOGO. "It's exciting to us that we've connected students in different countries and they continue to learn together and build friendships. That's what can make the world a better place."