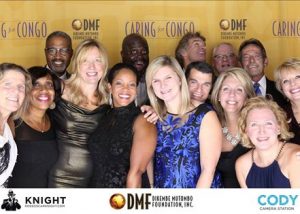 This weekend Women Orthopaedist Global Outreach (WOGO) was honored by the Dikembe Mutombo Foundation, at their annual Caring for Congo Gala, for our work this past summer in the Democratic Republic of the Congo.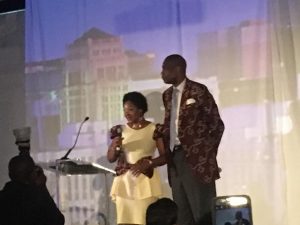 The event was a wonderful celebration of all of the hard work that happened in the Congo in 2016 and the works to come. Rose and Dikembe Mutombo thanked all of the people who have supported his vision of better healthcare, education and quality of life for the Congolese people.
"Since the doors to the Biamba Marie Mutombo Hospital opened, we have been blessed to have served over 200,000 patients, and we are serving an increasing number of patients each month, and treating – daily – over 100 patients through emergent and outpatient care. This past July, I was at the hospital with a delegation of highly specialized professionals and through partnerships with their organizations approximately 2,500 patients were fitted for and received new hearing aids through The Starkey Hearing Foundation; a team of female surgeons from WOGO addressed the unmet needs of women in the areas of arthritis and degenerative joint disease including performing 42 knee replacements; Dr Groesbeck Parham, Founder of the Cervical Cancer Prevention Program in Zambia, launched the first cervical cancer screening program in the Congo and performed surgeries on women testing positive for this cancer, " Dikembe Mutombo said at the event. "I am asking you to join me in Caring for the Congo so that we continue to fight preventable diseases, decrease infant mortality and prevent maternal deaths."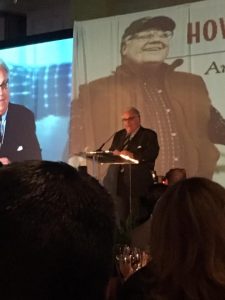 After a moving invocation from Ambassador Andrew Young, the honors celebration began. First up was Howard G. Buffett, an American businessman and philanthropist. Mr. Buffett is Chairman of the Howard G. Buffett Foundation which is pouring millions of dollars into efforts to bring electricity and stability to the war-torn DRC. To date his foundation has provided $19.7M for the construction of a 13.8 megawatt hydroelectric power plant and has pledged another $39M toward the costs of two more plants in the Congo. Upon accepting his award Mr Buffett stated, "It's tough. Congo's tough. Anyone who has worked there knows it. And we're going to change it."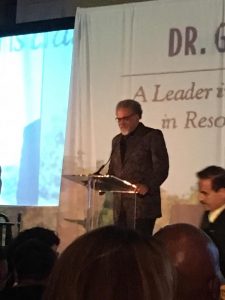 The second honoree, Dr. Groesbeck Parham, a certified gynecologic oncologist, Professor at UNC Chapel Hill and Honorary Consultant at the University of Zambia. He started screenings in Congo at BMMH in July and thus far he and his team have screened nearly 10,000 women for cervical cancer. Dr. Parham gave an emotional acceptance speech urging us all to continue our support of Congo. He expressed a new-found love of the country.  "Congo is deep – it feels like I stuck my fingers in some electrical sockets. We need to spread this feeling around," he said.
The WOGO team was the final honoree of the evening. Representing the team, four of our surgeons,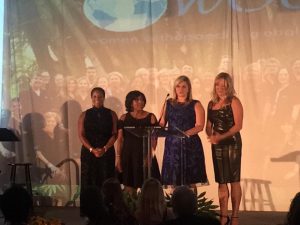 Dr. Mychelle Shegog-Abrams, Dr. Rinelda Horton, Dr. Kathleen Hogan, and Dr. Robyn Hakanson accepted the honor. Dr. Hakanson thanked Rose and Dikembe, Drs. Mimi and Louis Kanda, and so many others for our success in the Congo and the completion of 42 knee replacements. Dr. Hakanson said, "Those 42 knees changed our lives. They really did. We have made long-lasting friendships [in Congo]…We had some really emotional goodbyes because while 42 seems like a big number we were disappointed. We were hoping for more. And so, because we have unfinished business we are committed to coming back."  You can watch Dr. Hakanson's speech and get a taste of the evening.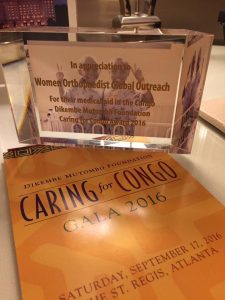 We are so thrilled to have been honored for our work in the Congo. The people of Congo have a special place in our hearts. We are working hard to get back to BMMH and continue our work there. You can support our work with a donation, every dollar makes a difference.