"Sharing the holiday with other people, and feeling that you're giving of yourself, gets you past all the commercialism."      – Caroline Kennedy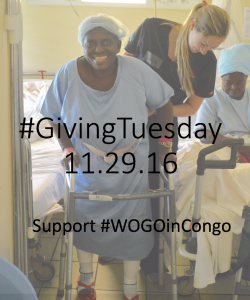 We invite you to join the WOGO team in participating in 2016's #GivingTuesday in support of our efforts to restore mobility in developing nations, and return to the Democratic Republic of Congo to continue our joint replacement surgeries there.
In its fifth year, #GivingTuesday is a global day of giving fueled by the power of social media and collaboration. Observed on the Tuesday following Thanksgiving (in the U.S.) and the widely recognized shopping events Black Friday and Cyber Monday, #GivingTuesday kicks off the charitable season.
This year, on November 29, WOGO invites you to participate in #GivingTuesday by making a gift to us in support of our return trip to the Congo. We will be returning to continue our mission of restoring mobility and improving lives in developing nations.
Please support WOGO with a donation using a credit card at https://wogo.org/product/donate/.
You can also download the Donation Form and email to info@wogo.org or mail to the address below. Checks should be made out to Women Orthopaedist Global Outreach.
Operation Walk – Women Orthopaedist Global Outreach
2018 Electric Road, #280
Roanoke, VA 24018
After making your donation, please share your support of WOGO on your social media accounts including the #GivingTuesday hashtag and #WOGOinCongo in support of our next medical mission.
Happy Thanksgiving! And THANK YOU for your support!