The WOGO team has been hard at work in Antigua Guatemala this week. We are providing free, life-changing joint replacement surgeries to people in need.
It's been a challenging but successful trip thus far.
The early team arrived on Thursday and started unpacking 9000 pounds of cargo. Our cargo contains everything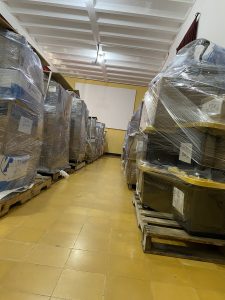 we need for our surgeries, patient care, and our outreach projects for the week. We unpacked 24 pallets of goods, and sorted into work areas – Nursing, Physical Therapy (PT), Operating Room (OR), Anesthesia, Office, and more. We moved materials and pallets, we stacked and opened boxes and we prepped the warehouse room for a week of surgeries.
Friday, the main team arrived in Guatemala City and were transported to Antigua. The team comes from 19 states. For twenty-seven of our team (of 67), this is their first time traveling with WOGO. Two of those 27 come to us from other Operation Walk teams.
We took a quick tour of the hospital on Friday afternoon and then had our team meeting and dinner. This was the first time we were together as a full team since 2018. Our 2020 mission was thwarted by Covid-19, and we've not been able to get back to work since. The excitement in the air was palpable and the hugs were aplenty. We covered all of the important details of the week and met all of our new members.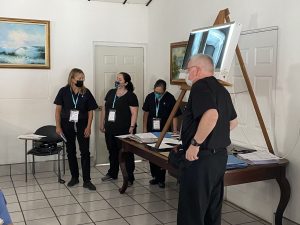 Saturday morning we got right to work with Clinic where we screened the potential patients to determine who would be good candidates for surgery. After conference to discuss all of the patients seen in the morning, we started our first 5 surgeries.
We have operated each day, and will finish up today with the surgical portion of our trip. Our PT team has been
hard at work getting people up and walking, learning how to navigate stairs and learning the exercises which will help them to continue healing after we have left.
Many of our patients have already been discharged because their recovery was so excellent. They are walking
with canes or walkers, and their families have been so happy to pick them up to go home.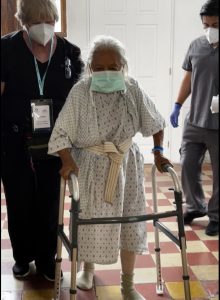 We've experienced some set-backs on the trip. There are rising Covid cases here in Antigua, and some of our patients have tested positive so they are not able to receive the surgery. We've also had a patient be cancelled because of other health reasons. We don't want to do surgery that could result in complications because of other health concerns,
All in all though, the trip is successful. We feel great to be back to work providing mobility for all.
You can support WOGO and our mission by making a donation to our team. Every dollar helps us on our journey to continue providing life-changing, joint replacement surgeries to people who would not otherwise have the opportunity to receive it.