The Luis Salas Jr. Memorial Scholarship was founded after the untimely loss of our friend and WOGO team member Luis Salas following our Congo medical mission trip. Luis was a member of the WOGO team from its inception. His hard work, his cheerful demeanor and his love of giving back endeared him to all who encountered him.
At its recent Board meeting, the WOGO Board voted unanimously to formalize the Luis Salas Memorial scholarship fund, as a memorial to Luis, whose passion for education was known by all. The fund is established to provide educational opportunities for the person in the medical mission location WOGO visits, who demonstrate an enthusiasm for the medical profession. An application process and selection committee will take part in the awarding of scholarships.
The first recipient of the scholarship is a physician from the Democratic Republic of the Congo, Dr. Frank Kaleka, whose interest in learning was evident during our trip to the DRC in 2016 and whose determination to continue his medical education has been unwavering.
Born in a small village of Tshikapa, DRC on the 19thof February 1990, to a family of 9 children, Frank grew up in a war-torn part of the world. Dr. Frank's parents divorced when he was just 4 years old and he and his siblings lived with his father and step-mother. As a nurse, his Dad traveled to nearby villages providing medical care to those in need in exchange for some fee which the family then lived on.
When Frank was 11,  he had an accident where he sustained a burn covering his face, anterior chest, abdomen, arms and thigh. The health system in the DRC, being so poor, the family had to go seek medical care for him in a city that was far away, Kananga. Once in the city of Kananga, Frank was admitted in a Baptist hospital (Hopital Bon Berger de Tshikaji) owned by Americans. As Frank says now, "Thank goodness things went well." Frank stayed home from school for a year during his recovery.
During this time because of the political unrest affecting Tshikapa, Frank's father decided to move the family to the city of Kananga as this is his home town. Frank was able to restart school and finish with a study of biochemistry.
When Frank turned 18, he began attending medical school in the same city inspired by his father's experience in treating the sick, remembering times when people would knock at the door to the family home in the middle of the night for medical assistance.
He began a pre-graduation internship at the Biamba Marie Mutombo Hospital in Kinshasa for in 2013. After almost 2 years of internship in Kinshasa, working in different services with medical doctors and working as a volunteer to help those in need, Frank returned home for his final exams and graduation.
On the 27thof June 2015, Frank graduated with honor as a Medical Doctor in the Democratic Republic of Congo. Dr. Frank Kaleka decided to return to Kinshasa to help prepare for a residency in the United States. He had to apply for a job to make ends meet while preparing. He was then accepted at the Biamba Marie Mutombo Hospital on a 6 six-month internship contract renewable once with the chance to be hired after renewal.
Dr. Frank spent most of his time in the Emergency room, the Operating Room as went on doing many surgeries at low or no cost when working with international partners, like WOGO, mostly from the US. In the meantime, Dr. Frank did not give up on his dream of getting training in the US to give back to his community at home, whose health care access has not changed much mostly for those in remote areas. Meeting American medical teams inspired him even more.
We are thrilled that Dr. Frank Kaleka is now in Texas taking giant steps in fulfilling his dream of training in the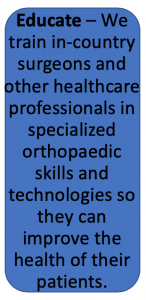 United States. We know Luis would be thrilled that Frank is fulfilling his dream in Luis' memory.
WOGO has 3 pillars to our program. To empower, to educate and to engage. We believe that the Luis Salas Scholarship ensures that we are fulfilling this point in our mission.
Having Dr. Frank here in the US is exciting for WOGO. We want to continue helping the communities we visit. We know that Dr. Frank will take all that he learns back to his country and make it a better place.
Please join us in congratulating our first scholarship recipient, Dr. Frank Kaleka, of the Democratic Republic of the Congo.  You can support WOGO at www.wogo.org/donate .