We will be sharing Dr. Jan Kriska's updates from his race here – often in his own words. Enjoy the updates and wish him luck!

3/22/17 – In the News!
Visit our Facebook page to see the final video interview with Dr. Kriska (3 parts!).
3/9/17 – Update from Dr. Kriska – "As you maybe know after 6 days of wilderness bivvying out in -40 degrees, breaking the trail for 160 miles through snowdrifts, one can imagine that being alive is good thing. This effort came at a price -Frostbite. Initially I thought that frostbites on the fingers will not prevent me from continuing. After further evaluation however I found out the foot ulcers extended to the bone. I came to conclusion that I need to stop. Jorge Rufat-Latre is still trying to get to Ruby. I hope he makes it soon. There is nobody else out of 10 foot ITI racers in the race anymore . Sorry for the disappointment that I have caused but I will try again soon."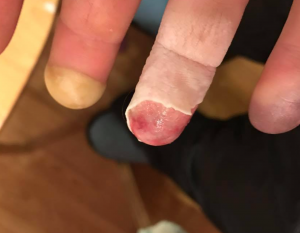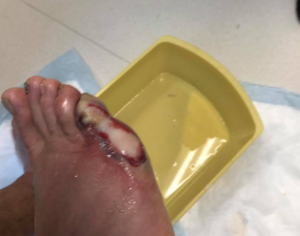 We are SO very proud of Dr. Kriska's Effort and we want him to be safe and take care of himself. Thank you for following his adventure. We will continue to share updates about Dr. Kriska because we know he will have many stories, and he will heal.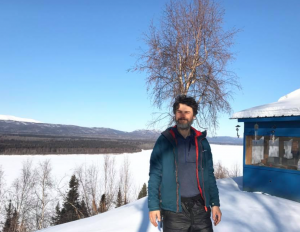 3/8/17 – During a much needed rest in Ruby, Alaska Dr. Kriska shared some photos – the scenery is just gorgeous. He's had difficult terrain, and waist deep snow to contend with. He ran out of matches, feels frostbitten and is tired. But his extraordinary outlook is positive and he plans to push on towards Nome. Just under 500 miles left! Please cheer him on!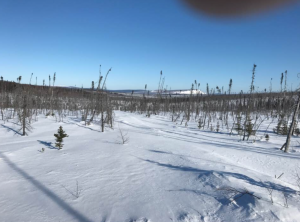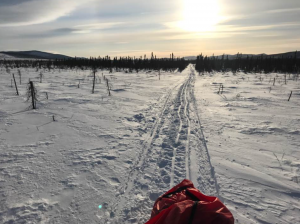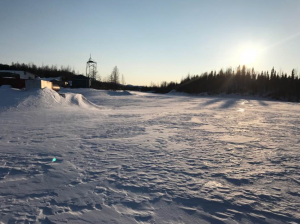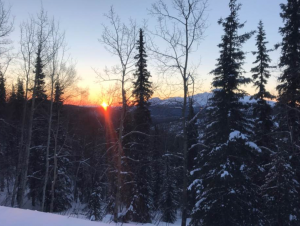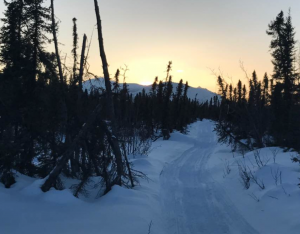 3/7/17 –Noon – Dr. Kriska has arrived in Ruby, Alaska.  (noted with red arrow on map)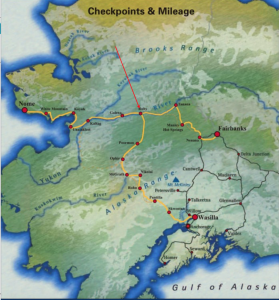 9am – If you are following the MAProgress link from the Iditasport Race site, it appears Jorge (Cold Latitudes) and Dr. Kriska are together. Both racers' trackers are currently in standby mode to conserve battery.  Dr. Kriska is actually further ahead of Cold Latitudes by 20 miles, likely more. These four are amazing humans, the athletes moving in extreme conditions and the race organizers Billy and Erica.
Our latest update says that Dr Kriska is 40 miles from Ruby. The trail up to Poorman was in "bad" condition. I believe this meant that even though it had been broken, the wind was filling in the trail. Trail-breaking is energy sucking – that may account for the slower movement.
Thanks to #thriveattheedge for providing an update!
3/4/17 – Dr. Kriska is at the North Fork Innoko cabin and headed to Poorman. Iditasport Race director, Billy Koitzsch and trailbreakers broke trail all the way to Ruby for the runners! They broke almost 170 miles past McGrath–the snow was knee deep to about 6 inches along the way. They are now headed back to McGrath.
3/3/17 – Dr. Kriska is still doing well but is currently post holing. Post Holing is very hard work and frustrating. When the trail is not broken, you take a step not knowing whether you're going to break through the crust at the top of the snow. Depending on how the snow set up, temperature, wind, etc., the crust may not be strong enough to hold. If it isn't, you break through to an unpredictable depth. It's incredibly frustrating when you're trying to maintain some kind of pace. Snowshoes can help, but it's still slow. As of 9pm yesterday, the Race Director and snow machine crew had broken the trail. They are now with Dr. Kriska at Carlson's Cabin. Support Dr. Kriska's run in honor of WOGO!
3/1/17 – 6pm –Jan Kriska is trekking to Carlson's Cabin (30 miles from Ophir). Iditasport volunteers are breaking the trail all the way to Ruby for our Iditasport runners! You can track the race live.
3/1/17 – Last night Matus Kriska did a video interview with his dad.  You can watch the videos on the WOGO Facebook page.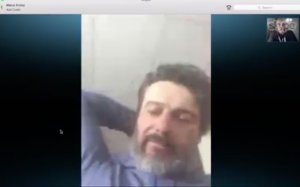 2/28/17 – Dr. Kriska has sent some photos of his race so far. Some really beautiful sights! He is more than 300 miles into the Iditasport Impossible. Currently the temperatures are cold (negative 2F).
You can show your appreciation of Dr. Kriska's 1,000 mile run across the wilds of Alaska clicking here.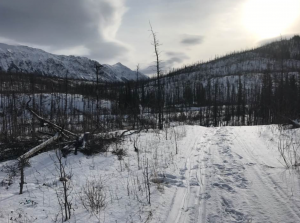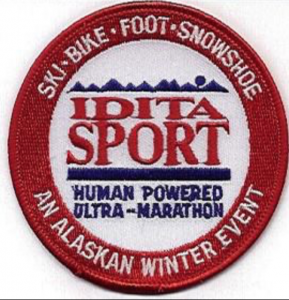 2/26/17 – 8pm Dr Jan Kriska arrived in Nikolai. He is feeling great & plans on pushing on soon.
2/24/17 – The race trail is windblown but the Iditasport Race Director, Billy Koitzsch, has hammered reflective lath trail markers into the ground for participants to find their way.  Thousands of handwritten Iditasport lath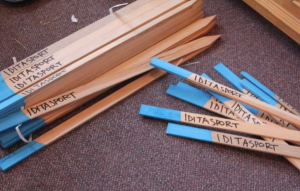 are used for the race along with cut and stapled reflectors to assist with visibility at night and during storm conditions.
From Puntilla to Styx the trail is too soft to ride, so bikers are pushing their bikes, and runners are snowshoeing.
Dr. Kriska arrived at Styx tent camp at 3:03am this morning.
2/23/17 – Dr. Kriska is having a good race. Last night while the bikers on the trail as they bivy in for the night the runners were passing them. Should be an interesting day to watch!  You can track the race live – just click this photo.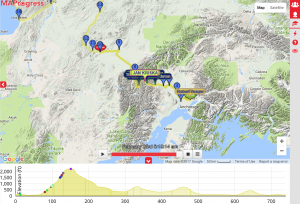 2/20/17 – Dr. Kriska sure has a beautiful view this morning. Shot from 5:30am today as Jan heads to the Finger Lake checkpoint.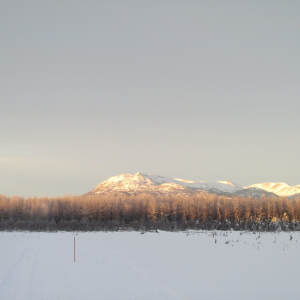 2/21/17 – From Iditasport – Due to technical difficulties at 2pm on the 19th, the race had to be delayed.  Race re-start was at 9am on 2/20.  Here is Dr. Kriska and other racers arriving at Yentna Station for a rest stop. He's looking good!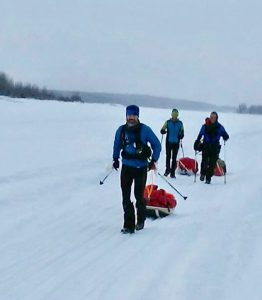 Technical note from Iditasport – We were only having technical difficulties with the GPS locators–the race always had the re-start the following day. The reason for the re-start is for safety–it makes sure all racers are prepared for the journey. A re-start reduces the chance of anyone showing p unprepared and getting into trouble in a place that is difficult to extract them from.
2/19/17 – From Iditasport – Photo of the 2pm race start.
2/18/17 – From Dr. Kriska – I am getting ready for Iditasport Extreme 1000 miles race across Alaska. I want to remind you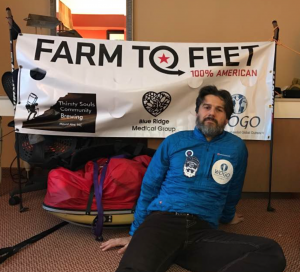 that I do this race to support WOGO and raise money for our future Orthopaedic Health missions that I am a part of. I thank you for your generosity! You can donate money on WOGO website. You can buy nice t-shirts and stickers.
I also am proud to wear my local American made socks from Farm To Feet. I want to thank to all my employees and colleagues from our Blue Ridge Medical Group for tolerating me. I also want to thank my partners from Thirsty Souls Community Brewing.