Pre-Trips are grueling, often including 20+ hours of travel, (each way) and 2 ½ days in country. Pre-Trips are also inspiring. The Congo was no different.
We traveled for more than 20 hours first flying to European cities on the first leg of our trip. Then, after a short layover we boarded a flight to Kinshasa, Democratic Republic of Congo. After flying all day we landed in Kinshasa and made our way through customs. The airport in Kinshasa is small and very busy. You know right away that you've arrived in a new and unique place.
It was very dark riding through the city, streets teeming with people. We arrived at our hotel, checked in, and grabbed a bite before we got a chance to sleep and prepare for our very busy days ahead.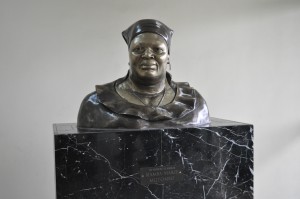 An early morning start took us to our future home, Biamba Marie Mutombo Hospital (HBMM). Traveling with Mr. Dikembe Mutombo, we arrived to the staff ready to greet the groups there to work. WOGO was the only group on-site for a site visit. We were joined by See International and The Starkey Hearing Foundation.
SEE International is an organization that provides sustainable medical, surgical, and educational services through volunteer ophthalmic surgeons with the objectives of restoring sight and preventing blindness to disadvantaged individuals worldwide – is performing cataract surgeries through the end of the week. Their goal is to restore sight for up to 140 patients during their trip.
The Starkey Hearing Foundation is planning to fit thousands of hearing impaired patients with new hearing aids. Starkey has been to HBMM last year and fitted hundreds of patients at that time. This year they have a much larger goal.
After a long morning and early afternoon touring the hospital with the surgical team, getting many questions answered and generating lon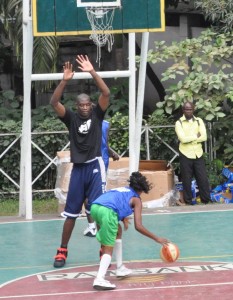 g lists we were whisked away to participate in the Dikembe Mutombo Foundation Basketball Clinic. What a special afternoon. The kids participating were really great players, and to see their joy and wonder at meeting one of their great heroes was really special. Once all of the kids got over their nerves of playing in front of Mr. Mutombo we were treated to some amazing basketball.
Our second day in country included a visit to University Hospital where many of our patients will come from. The University of Kinshasa is a large campus about an hour from city center. We met with the Dean of the College of Medicine and many doctors who teach there. We were joined by the HBMM staff for the tour. Our surgeons had a wonderful discussion after the tour, planning our teaching events when we return next July. We met several students including 2 Orthopaedic Residents, two young women. We're hoping they can join us next July as part of our team so they can learn from our staff.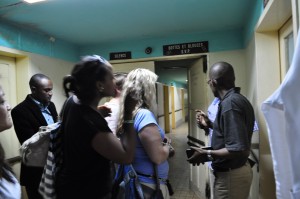 The remainder of our trip was spent back at HBMM getting many more questions answered; spending time getting detailed plans in place for our return. We are looking into many aspects of our upcoming medical mission. There is much need in the DRC and we want to be able to help as many people as we possibly can. We also visited additional hotels and restaurants that we may use during our 2016 trip.
Our last meal with the DMF Delegation was beside the Congo River. The heat was intense, but the food was delicious and the company delightful. We enjoyed spending time with our hosts Mr. and Mrs. Rose and Dikembe Mutombo. It was a lovely cap to a fruitful trip.
After another 20+ hours of travel home we've now gotten sleep and relaxed taking in all that we experienced. We have a lot of work ahead of us, but boy will it be worth it.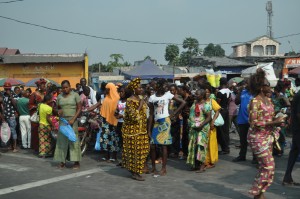 We entered the Congo, met amazing people and are now preparing for a July 2016 medical mission. Let the work commence!